With our new house comes new adventures and plenty of room for new experiments. High on that list is new garden beds, and testing out different soil mixes! These cedar garden bed looks very promising so far, especially for the low price.
Once you're done building this bed, read this page to learn what to fill it with and my favorite way to set up my garden to be as easy and successful as possible, or make it simpler and get ALL the beginner lessons from seed to harvest in my eBook!
This post contains affiliate links for your convenience and to help support this blog. If you'd prefer a condensed two page printable of these instructions, scroll down.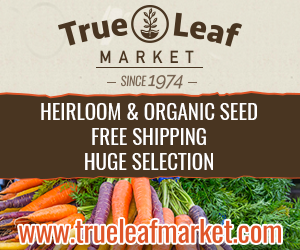 Previously my garden beds were built from cement cinder blocks, which was definitely long-lasting and easy to set up with minimal tools (although they are pretty heavy!) But I've always heard that cedar is considered the best option for garden beds, so I thought I'd explore my options. (Avoid treated lumber since it can leach chemicals into the soil.)
Our local Home Depot here in California didn't seem to carry any cedar lumber, mostly just pine. However, I did realize they had six foot cedar planks for privacy fencing in both 5.5 inch and 7.5 inches wide for just around $3 apiece.
I wasn't sure if these would be as strong as thicker boards, but it's been a year and so far they have not bowed out at all!! If you use two boards to make a taller bed, I suggest adding one more support piece in the center of each long side to make sure the planks stay together nice & tight.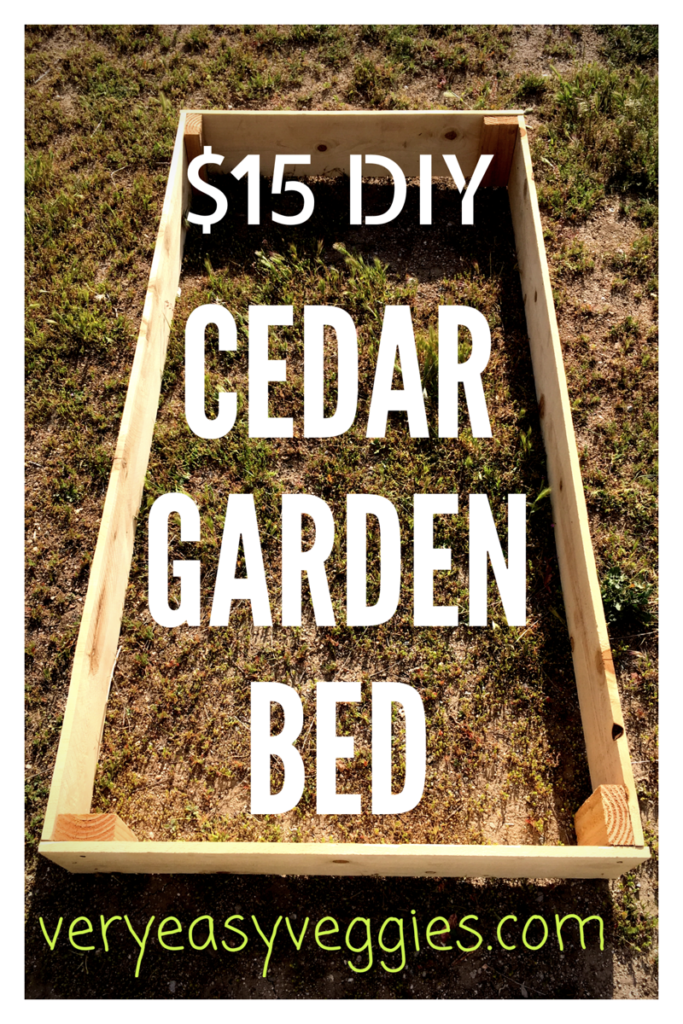 Seven and a half inches may seem shallow for a raised bed. But the truth is that if you fill it up with great soil and compost (and some plant food or fertilizer) it is plenty deep for most vegetable plants (especially assuming it's set on dirt, not concrete). You can find the right fence planks or even order online here. If you want a deeper bed (about 11 inches), you can double the 5-1/2 inch boards.
Often other garden beds I've seen are made with very thick boards, but I really think these will be perfectly adequate for the price! This project requires three boards at about $3.75 each, so you should come out under $15 for all, including minimal basic building supplies. If you want to make sure the beds last even longer, I'd suggest an eco-safe wood treatment like this one.
Another nice thing about this project is that if you don't have a saw, Home Depot will usually cut the boards for you for free or cheap. That means you can build it with just screws and a drill! Stainless steel screws will last longer without rusting.
get the printable PDF of this tutorial
Supplies:
Three cedar fence boards (6'x7.5″)–optional: have Home Depot cut the third one in half for you when you purchase
Power drill & drill bits
Wood screws, about 1.5″ long (optional: stainless steel to prevent rust)
wood stakes, pieces of 2×4, or similar for the corners (see photos below)
Optional: Wire mesh (hardware cloth) for gopher prevention and wire cutters/tin snips
Optional: staple gun to staple the wire to the bottom of the bed if you prefer
If you choose to try a hammer and nails, let me know how it goes! I think screws might be stronger and easier, though.
If you prefer the look of corner brackets on the outside (or inside) you could try some like these below (the first decorative one is pricy but does not require screws at all).
Note that Home Depot does offer free delivery on some items, or you can order online and pick up at the front to help with "social distancing".
Cut the Wood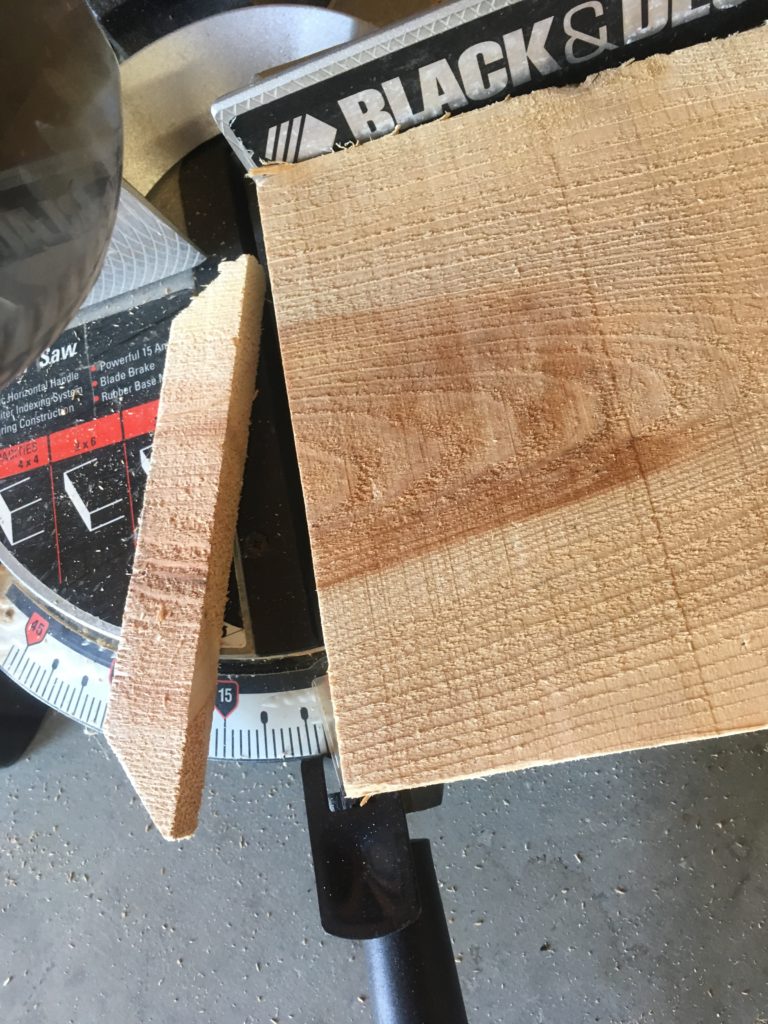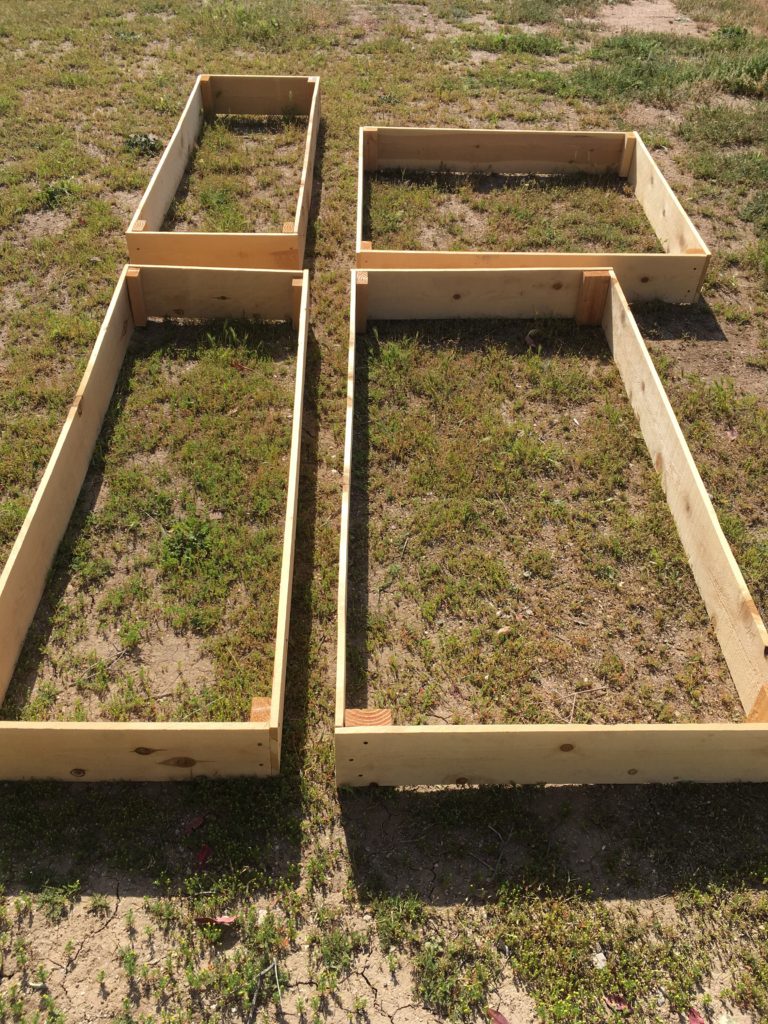 First, you should decide the desired width of your garden bed. I think that 2-3 feet wide is the sweet spot so that you can reach across easily, and so the plants don't get too crowded or shade each other too much. Since these wood planks are 6′ long, it makes sense to cut them in half to 3′. If you've chosen to cut off the dog eared corner edge, keep in mind that half will not be exactly 3 feet anymore. And remember you can ask Home Depot to make the cut for you!
If you are using wire underneath the beds to keep gophers out, buy it according to the width of your bed. Double check that you find the right wire width to match before you build the beds. I'm going to test out both 2′ wide and 3′ wide beds this year, but in the past I've been happy with 2′ wide especially for tomato plants.
If you're cutting your own wood blocks for the corners (see below), make them about the same height as the board width (about 7 inches). It's okay if they're not exact. We are using pieces of 2×4 lumber, but some people prefer to use wood stakes. Just make sure they are a good size to drill screws into.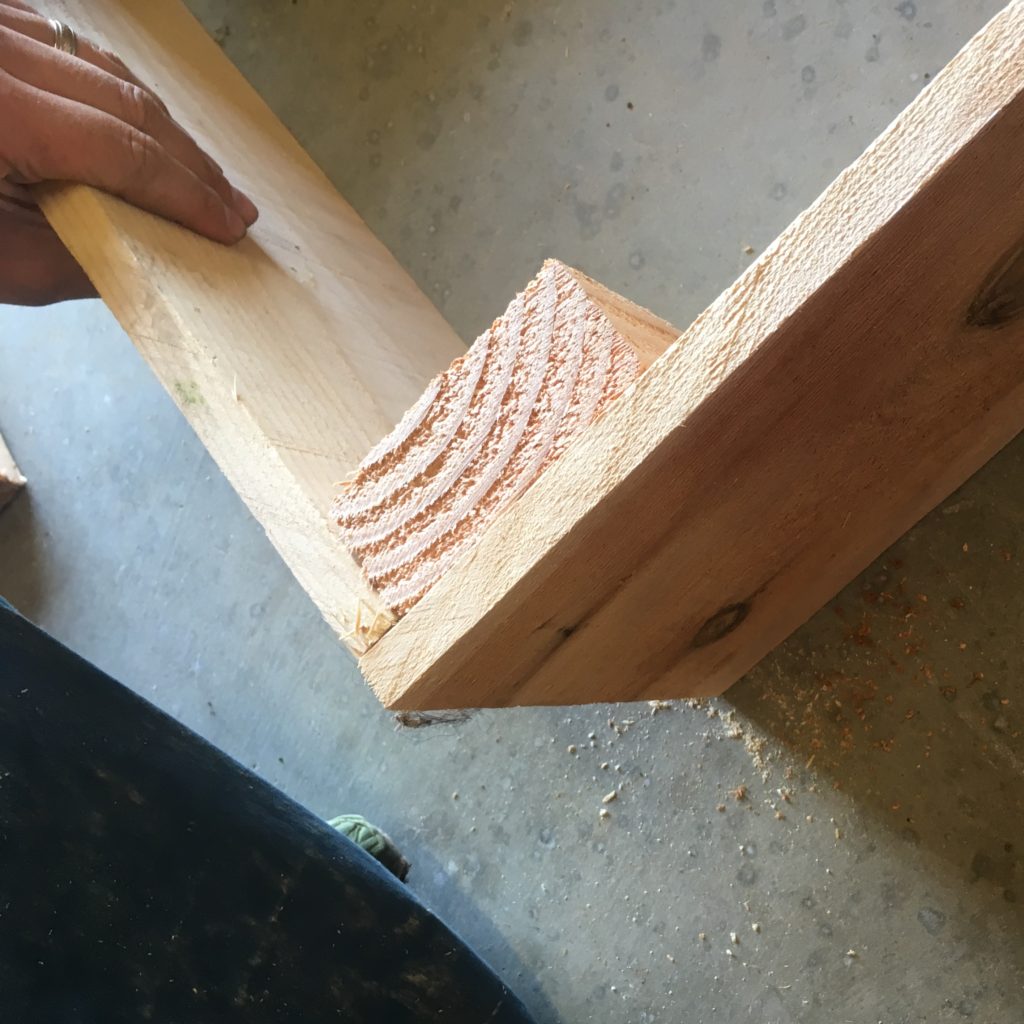 get the printable PDF of this tutorial
Build the Garden Bed
Lay out the wood pieces and line them up to be sure they will go together well. We've chosen to have the short boards (on the right above) go to the edge of the bed, and the long sides (on the left above) will go just inside them to make a neat corner.
Using a drill bit a little thinner than your screws, pre-drill two holes near the edge of the cedar and into the center of the corner piece. Pre-drilling the holes will keep you from cracking the cedar plank and make it easier to put in the screws. It might be easiest to start with the short side of the garden bed first.
Continue on each corner, drilling then putting in the screws. This process works best with a helper to make sure things stay lined up right. It also works best on flat and mostly level ground. It's common for the boards to be slightly warped though, so don't worry if they don't turn out perfectly even. That's what the corner pieces are for!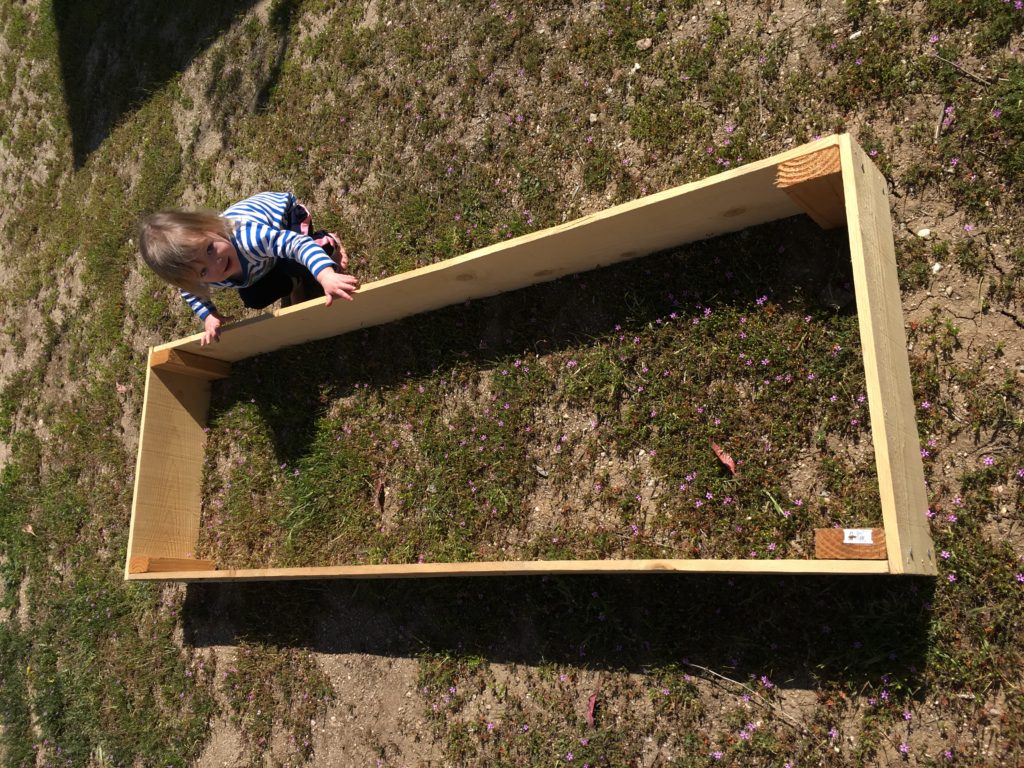 Lay out the optional gopher wire and carefully attach it to the bottom of the bed with a staple gun. (If you can't get the staples in all the way, carefully tap them in with a hammer). You can lay the wire under the bed without attaching it, but stapling makes it extra secure and convenient!
Well, there you have it, a brand new cedar garden bed! Line the bottom with cardboard or newspaper to kill the weeds underneath, fill with soil, and plant. Let me know what you think of your new garden bed!
Find tips on choosing soil here, or read about the few extra steps I take from here to set up a foolproof, time-saving, beginner-friendly garden that does most of the work for you!

Lately I've been considering adding a cover like this to my raised beds so I can extend my planting season even longer! What do you think?