This fresh & authentic-tasting easy blender salsa is always a hit with company! It's so easy, it's hardly worth calling a recipe, but it's good nonetheless! (I admit, I rarely stick to recipes anyway.) It may be cheating a bit, but the good news is that it's only 3 ingredients , and your friends will still think you made it totally from scratch.
But for such a short "recipe" this salsa has a lot of history… in our life, anyway.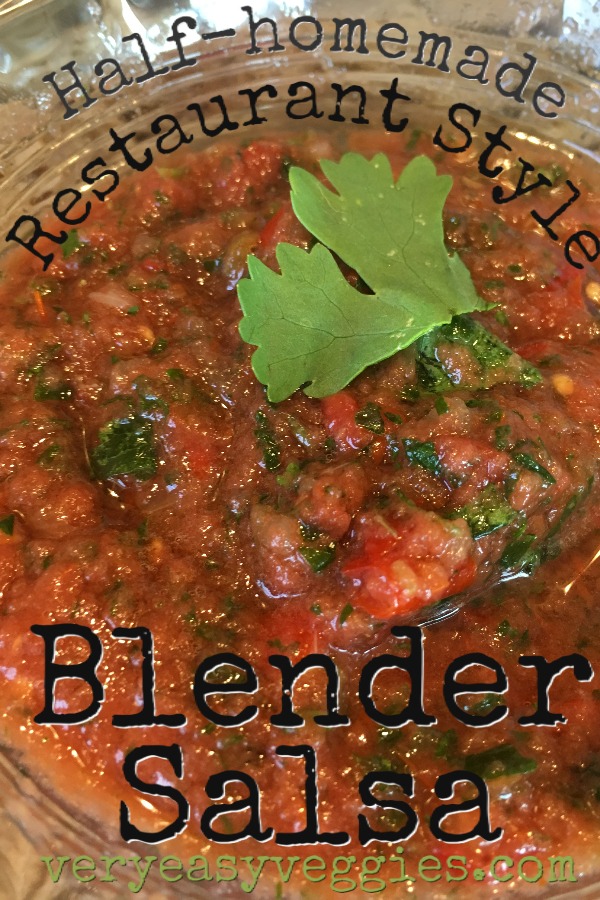 I remember where I was when I first tasted this easy blender salsa, although I can't remember if it was my favorite salsa at the time (in fact, I probably wasn't a big fan of ANY salsa before this one). But I would eat that salsa almost every Monday night for the next couple years, with more or less the same group of people who were there that night. A few of the people in the room were new friends, some acquaintances, and some I didn't really know yet.  But as you can imagine, we soon became good friends.
It probably wasn't the salsa's doing. But I do know it had a whole lot to do with the sweet selfless woman who made it for us, and opened her home to all of us (and our growing brood of small children).  We all shared life and dinner once a week. And several of the people I met around that salsa bowl are still among my closest friends to this day.
You'll understand why every time I make this easy blender salsa, I thank the Lord for our gracious host, and pray that He will return those blessings of her faithfulness upon her.
Oh and, one last confession, I don't even know her exact recipe. But I know this is pretty close. So if you don't like it, you can assume it was my fault, not hers.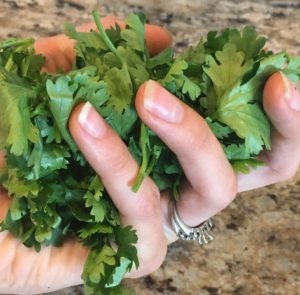 Easy Blender Salsa Ingredients:
A blender
2-4 medium garden tomatoes
A small handful of fresh cilantro leaves 
about a cup of a basic jarred salsa (I'm using Pace)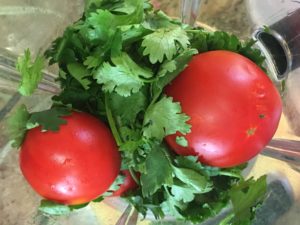 Blend a the salsa and cilantro on your blender's lowest setting (plus onion if you're using it). Turn it higher if you need to chop the leaves smaller.
If you'd like to make it a bit chunkier, wait to add the rest of the tomatoes until the very end, and blend it only for a moment on low.
Give it a taste and add a bit more tomato, salsa, cilantro, or seasoning (garlic or onion powder) if needed.
Serve and enjoy! Try to make this just before serving, as opposed to placing it in the fridge for too long first, since refrigeration tends to change the flavor and texture of fresh tomatoes.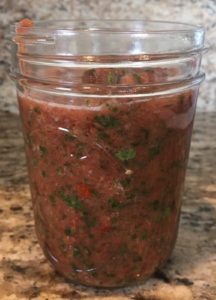 I was never too big a fan of salsa before this recipe, and I still have a hard time finding one I like much, but I've been eating this easy blender salsa like crazy all summer long! Let me know what you think in the comments.
If you love cooking with fresh herbs and veggies (especially tomatoes!) and want to start your own little garden, this website was made for you!  Find everything you need to know for starting out here.
Or, start small with some of Urban Leaf's cute & stylish indoor kitchen herb gardens below… don't worry, they come with easy instructions! (FYI, these are affiliate links but I only recommend stuff I think you'll be happy with.