The past few years have been crazy ones, but of the positive things I've seen come out of them is the booming demand to start a victory garden! But that also means some garden stores have faced high demand, especially stores to buy seeds online, so I wanted to help you out with that. I'll keep updating this list of my top seed companies where you can buy seeds online.
If you're brand new to gardening, read this page to help you know where to start with your garden and get some common questions answered! And in case you might have any friends with a budding interest in growing food, I'd encourage you to share tips or any of my pages you've found helpful!
You can find tips for starting seeds on this page and suggestions for quick-harvest beginner friendly vegetables here.
If you're looking to learn all about gardening for beginners, subscribe by email or grab my eBook on easy gardening for beginners below!
Some links are affiliate links which means that if you make a purchase in that store, I receive a small commission to help keep this website going. Most are not, but either way I appreciate you reading!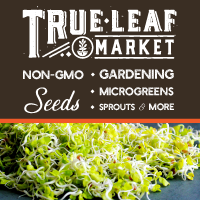 True Leaf Market (link above) still has seeds in stock including microgreen seeds and supplies. As with many, order processing will take more time.
Botanical Interests seems to have a good stock of veggie seeds, including heirlooms and organic.
If you're in the UK, check " target="_blank">Gardening Direct. Most of the other links here are US based.
Naturezedge is a veteran owned small family seed site. Here you can buy seeds online in collections or variety packs at a better value.
Home Depot: it seems most or all seeds & plants are unavailable for delivery and limited stock in stores. However you can still find some supplies like soil and seed starting supplies, even for delivery.
MI Gardener seed store is a favorite of gardeners for its many choices of 99 cent seed packs. Orders may take longer than usual.
High Mowing Organic Seeds seemed to have a lot of choices left.
Baker Creek seeds online is a huge favorite especially for really unique heirlooms but a lot of their items have gone out of stock this spring and they have had to close for restocking periodically.

Park Seed seems to still have stock.
Jung Seed has some organic seeds left, but not a lot of choices.
Burpee: I clicked around a bit but every veggie seed I looked at was out of stock.
Johnny's seeds is only taking commercial orders this month.
.
If you know of any stores I've missed, feel free to leave them in the comments! And of course check your local outdoor nurseries and landscaping companies!